Latest News
Please see below the latest news from Queens Park Veterinary Surgery
Friday 3rd April 2020:
Just a reminder that for the duration of the lockdown we're working with different protocols, and whilst we will still see pets who need urgent treatment, the surgery is closed to walk-in clients. Please continue to telephone us on 01204 525066 if your pet is unwell or injured and we will give you an appointment – we will however ask you to wait in your car in our car park whilst we examine your pet. Please see below the full protocol for this system.
If your pet is unwell or injured, please telephone the surgery on 01204 525066. You will be given an appointment time – please arrive at this time and park in our car park behind the surgery.
Telephone us when you arrive – please stay in your car with your pet.
We will come to your car and collect your pet and bring them into the surgery for treatment. We may be wearing PPE to protect ourselves and you.
Once treatment is carried out, we will phone you to advise of the treatment plan and any medication that your pet may need. We will take payment over the telephone by credit or debit card and then return your pet to you.
If your pet needs repeat medication or food, please order this in the usual way by phoning us – we will take payment over the telephone. When you arrive to collect the medication please park in our car park and wait in your car – telephone us and we will bring the medication out to you.
Our priority at this time remains keeping our staff, clients and patients as safe as possible. We are here for you, so if you have any questions or concerns around your pets health, please do telephone us for advice.
Friday 20th March 2020:
Following the recent UK government updates we'd like to continue to reassure our clients that we are actively taking measures to keep everybody safe during this time.
Our staff remain well and healthy, and our opening times are currently unaffected. Our priority is ensuring that our staff, clients and patients remain well, and as such we are actively asking clients who are unwell to kindly stay away from the surgery.
If your pet is unwell, please continue to contact us in the first instance. We will advise you whether you need an appointment or whether your pet can be treated at home.
We are now asking for more notice than usual for medication and food requests – our wholesaler deliveries have been reduced so it may take longer than our usual 24 hours to process your request. We are working hard to ensure that as few orders as possible are affected, however please do bear with us during this time.
If you are concerned about spending longer than necessary in the surgery, please wait in your car and telephone us when you arrive. We will call you in when we are ready to see you. Additionally, we are happy to bring medication and food orders to your car and take payment over the telephone.
We are now asking that pets are accompanied to the surgery by only one person where possible, however we do understand that this isn't always appropriate.
We continue to ask that anybody with symptoms, or from a household with a suspicion of Coronavirus, stays at home. If your pet needs urgent medical care we ask that you arrange a friend or family member to help transport them to the surgery.
We are keeping a constant watch on advice from Public Health England, and if any advice changes then we will update you straight away.
We are announcing this via multiple social media channels and our website, however we know that many of our clients do not use these services, so please share with friends and family offline if you can.
Thank you for your support with this matter.
Monday 16th March 2020:
During this uncertain time we'd like to reassure everybody that we are taking necessary steps to keep our clients and staff as safe as possible. We already have strict hygiene and cleaning protocols in place due to the nature of our work, and will be continuing with these stringent policies over the coming weeks and months.
We are politely asking that if you have any signs of illness, if you have recently returned from a high risk country, or been in contact with anyone diagnosed with Coronavirus that you kindly stay away from the surgery. If this applies to you and your pet is unwell, please ask a friend or family member to bring your pet to the surgery. This will apply until further notice. Should you wish to wait in the car until we are ready to see you, please phone us from your car and let us know you are here – we will call you into the practice when we are ready to see you.
At the moment we have no reason to believe that medication supplies will be affected by the virus, and we do not wish to fuel 'panic', however if you wish to order your pets medication earlier than normal, please get in touch with us in your usual way.
If for any reason the spread of the virus affects the running of the business we will inform you immediately, however we do not expect this to be the case.
Thank you for understanding and for your cooperation in advance.
Thursday 12th March 2020:
We all know the benefits of maintaining a healthy weight for our pets, as being overweight can contribute to many health conditions, including diabetes, arthritis and heart disease. We are excited to announce the launch of our brand new weight management clinics this month, which will be run by Sarah.
The clinics will remain free of charge, and every new sign up throughout March will receive a free weight kit, which contains digital scales, a 'slow down' feeder and all the advice you need to get your pet down to a healthy weight! Clinics will be run for both cats and dogs, and will be tailored to each individual pet.
If you're interested and want to know more, please phone us on 01204 525066, or send us a message and we'll get back to you. Alternatively, you can pop in to the surgery and chat to us in person.
Thursday 20th February 2020:
Following on from our post earlier this month, we have continued to see a high number of vomiting cases, potentially linked to the prolific vomiting bug which seems to be affecting much of the country. Our advice remains the same, to contact your vet as soon as symptoms appear (usually vomiting, inappetence or lethargy, occasionally diarrhoea) as dogs are responding well to prompt symptomatic treatment. Please always phone us for advice if you are worried about your pet.
Friday 14th February 2020:
Today is Valentines Day, and lots of you will be buying/receiving flowers. If you're a cat owner, it's important to check that they are cat friendly flowers, as Lilies are poisonous to cats and cause kidney failure. The toxic chemicals in Lilies are unknown, but all parts are thought to be toxic, including the pollen, flowers and leaves. Even ingestion of a small amount can cause severe poisoning in cats, including licking/grooming pollen from their fur. If you suspect Lily poisoning, or need further advice, please contact your vet in the first instance.
Saturday 1st February 2020:
February marks the start of Spay and Neuter Awareness month, and throughout the month we will continue to promote neutering. We recommend neutering of all domestic pets, unless there is a medical reason not to. Benefits of neutering include, but are not limited to, less chance of unwanted litters, reduced risk of tumours (testicular, mammary and uterine) and it can even stem unwanted behaviours, such as spraying and mounting. Talk to us about neutering at any time.
Monday 13th January 2020:
There are many different parasites that can affect our pets, and risk factors for each vary depending on your pets lifestyle.
Fleas are the most common parasite to affect domestic pets, and can occur at any time of the year. They can cause your pet to itch and scratch, and can cause inflamed/irritated skin and even allergic reactions.
As with most things, prevention is better than cure, and the good news is that fleas can be prevented by using a good quality preventative. Our veterinary nurses can talk through a parasite regime with you that suits your pets lifestyle. Call us today on 01204 525066 to book your FREE nurse appointment!
Wednesday 1st January 2020:
Happy New Year! We'd like to wish you all a very happy and healthy start to 2020. We hope to continue looking after your pets this year.
Wednesday 30th October 2019:
With bonfire night fast approaching, now is a good time to think about protecting your pet from the fireworks. For cats, we recommend keeping them indoors over the firework season, particularly on bonfire night itself. With dogs, take caution when out walking, and bear in mind that some dogs will be frightened of the sights and smells of fireworks. Please contact us if you are worried about your pet this firework season.
Thursday 12th July 2018:
FOUND – A Cockatiel has been handed in to the practice, found in Bolton. Please contact us on 01204 525066 if you recognise him/her.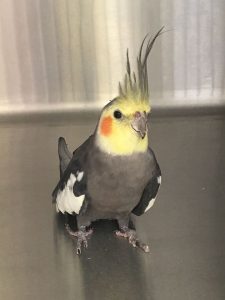 Wednesday 27th June 2018:
Hopefully you are all finding ways to keep your pets cool in this hot weather. Plenty of shade, fresh water, and a fan or air conditioning if that's available. Big bunny Max is loving the sunshine, eating a yummy strawberry outside in his garden.
Tuesday 26th June 2018:
Poor Oliver came in on Saturday morning as an emergency to have this fish hook removed from the back of his throat. Oliver had been walking around Rivington with his owner when he found (and ate) a fish, with this hook still attached. Oliver needed a general anaesthetic in order for us to remove the hook, which thankfully we did successfully. Luckily for Oliver his owners acted very fast, and he will make a full recovery.
Please be aware of fish and fish hooks if walking your dog near reservoirs, and to all fisherman please be mindful of what you are leaving behind!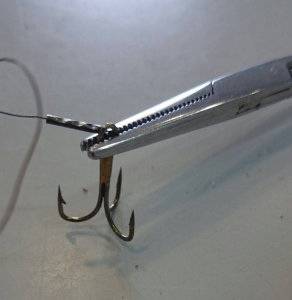 Thursday 21st June 2018:
With the warm weather at this time of year we see more cases of fleas than usual. If you are concerned that your pet might have fleas, or isn't up to date with flea and worm treatment, give us a call and make an appointment with one of our veterinary nurses. This is a free of charge clinic which we run to discuss parasites and tailor a prevention plan to each individual pet based on his/her lifestyle. Say no to fleas, just like Sarah!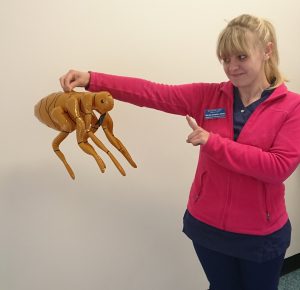 Thursday 22nd March 2018:
Competition time! See our Facebook page here for more information on how to enter our Easter competition. Be quick, as it ends on Thursday 29th March!
Friday 9th March 2018:
Did you know that we offer free of charge progress checks for all puppies and kittens even if they haven't been to us before? Our team of nurses will work with you to develop a parasite control plan that works for you and your pet, and his/her lifestyle, and provide the first dose for free! We can also recommend the best diet for your pet and provide you with a free sample bag, and discuss the benefits of vaccinations and neutering if this is something you haven't considered.
If you would like to know more, please pop in to the surgery or give us a call on 01204 525066.
Wednesday 28th February 2018:
Please take extra care with your pets during this spell of bad weather we are having. The infographic below shows what temperature it's still safe to walk your dog in. If you are concerned about your pet at all please call us at the surgery on 01204 525066.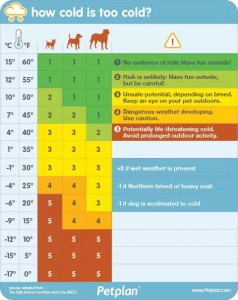 Monday 22nd January 2018:
IMPORTANT NOTICE
Following customer feedback, we have decided to make our prices simpler, and in lieu of a 2018 professional fee price increase we have decided to discontinue our 10% discount loyalty card from 31st March 2018.
We have managed to keep our professional fees static for the last 4 years, but with increasing costs this cannot continue without some other changes occurring. After canvassing opinions from our clients, you have told us that you would like simpler prices, so we have decided to keep our fees at their current rate for a fifth successive year, and discontinue our 10% discount card. Patients on our Healthy Pets Plan will continue to receive 10% off all services.
For any existing clients who wish to sign their pet up to the Healthy Pets Plan, we will waive the normal joining fee for those signing up between 1st January and 31st March 2018, meaning clients can join the Plan free of charge. For more information on this please speak to a member of staff.
We hope that you will understand our decision and continue to support us in keeping your pets happy and healthy.
Monday 8th January 2018:
Have you nominated yet in the Petplan Veterinary 2018 awards? There is still time to do so if you think that a member of our team deserves to win! Click here to be redirected to Petplan's website to vote now.
Friday 5th January 2018:
Happy New Year! We hope that all of our clients and patients had a relaxed and happy start to the new year, and we look forward to helping you make informed choices about your pets treatment and preventative healthcare throughout 2018.
Thursday 21st September 2017:
We were proud to have been a main sponsor for the Bolton Hospice Bubble Rush on Sunday 17th September. The Hospice raised a total of £50,000 which is a great result! It was lovely for us to meet existing and new clients and we think you enjoyed our freebies too! See more photos here.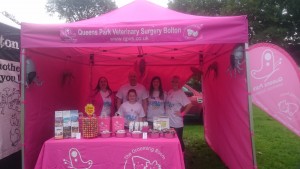 Wednesday 28th June 2017:
We have been keeping a secret for the last 4 weeks… We had a pregnant stray cat handed to us who gave birth to 5 healthy kittens. They are 4 weeks old today, and over the coming weeks we will need to find them lovely new homes. If you would be able to re-home a kitten, or know someone who can, then please phone us on 01204 525066 and ask to be placed on the waiting list. We have 4 boys, and 1 girl, and they will be ready to leave Mum in 3-4 weeks.
Monday 26th June 2017:
Have you seen our latest range of cat toys in the practice? Based on the popular phenomenon 'Grumpy Cat' these toys are sure to be a hit with your furry felines – they have gone down very well with our staff pets!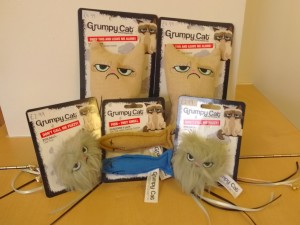 Monday 20th February 2017:
A sad case of poisoning has been brought to our attention via a veterinary practice in Hemel Hempstead – unfortunately Dexter the Cockerpoo died as a result of eating mouldy food from his owner's recycling bin. We would like to assure our clients that this is an unusual incident, however please do be aware that dogs (particularly those prone to scavenging) will not distinguish between fresh and mouldy food, and may try to eat things we don't want them to. If you do have a food recycling bin, please ensure that it is kept out of the way of your pets, emptied regularly and cleaned thoroughly to avoid mould building up. If your pet does get hold of mouldy food, or anything they shouldn't have, please phone us straight away for advice. In some instances we may need to administer medication or induce vomiting.
Saturday 1st October:
We are looking for a new home for our stray kitten, Marie. She is approximately 4 months old, very playful and good natured. Marie will need to have a full course of vaccinations, which comprises two vaccinations 3 weeks apart. She will also be neutered before she leaves us. If you are interested in adopting Marie please call us on 01204 525066.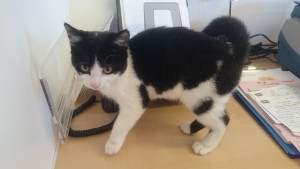 Tuesday 6th September:
We have a stray rabbit with us at the surgery at the moment, who was handed in just before the weekend. She was found in the Heaton area of Bolton. She does have a microchip but unfortunately it has not been registered, so we are unable to contact her owners. If you recognise bunny or have any information please get in touch with us on 01204 525066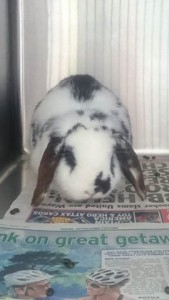 Saturday 6th February:
Did you know that the law around microchipping is changing on 8th April 2016? All puppies and dogs must be microchipped by 8 weeks of age. However it doesn't just apply to puppies, the law change applies to all dogs. So if your dog, regardless of age, isn't microchipped, you have another 2 months to get this done. We don't recommend leaving it until the last minute, so we are running an offer until the end of February to have any pet microchipped for just £15. Please phone us on 01204 525066 or check out our Facebook page here for details on how to take us up on this offer.
Friday 24th July:
Stripy has now been adopted! Her new owners are very happy and excited to take her home. For everyone who was interested in giving Stripy a home there have been 6 new kittens born 2 weeks ago! The Mother was the stray handed into the practice in June. Both Mother & Kittens are well and will be looking for homes soon!! If your interested in giving any a home please contact the practice on 01204 525066 and ask to be placed on the waitlist!
Wednesday 22nd July:
Stripy is in the Bolton News paper!
Thursday 16th July: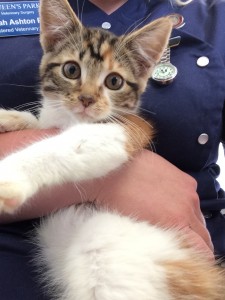 Hello, My name is Stripy and I need a new home!
Stripy is 1 of 5 kittens, unfortunately her 4 litter mates have passed away and little Stripy had a severe flea infestation to the point of her being anaemic! Her owner had used supermarket flea preparations (most of which repel fleas not kill them!). Stripy has been signed over to us and has been treated for her flea and is doing much better!
Monday 13th July:
Great News! The pregnant stray cat brought into the practice at the end of June has delivered 6 kittens! Mother & kittens are doing well with Blue Cross and will be ready for homes in a couple of months!
Friday 3rd July:
Royal Canin have a new offer! Buy 25 days worth of Royal Canin Feline Young Male or Female for only £11.50 or Royal Canin Feline Dental for only £16.00! Only whilst supplies last, so come into the practice soon to get your bag!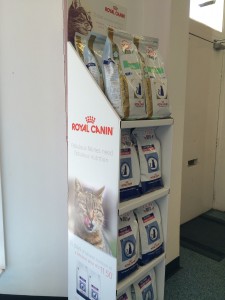 Wednesday 1st July:
Cancellation in the Grooming Room, quick, book your pets in now for a Groom! With the hot weather at the moment they will feel better without their thick Wooly Coats!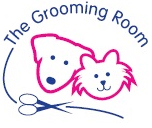 Tuesday 30th June:
We have a young stray cat that was handed in yesterday, she is very sweet and heavily pregnant with Kittens! We have spoken to the Blue Cross and they have agreed to take her and find Mother and Kittens a new home when old enough!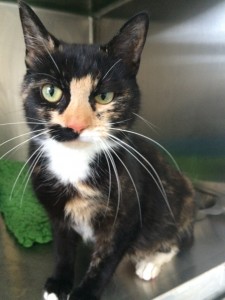 Monday 29th June:
Great News Today! Our Student Veterinary Nurse Sarah Ashton is now Qualified! Sarah has been with the practice since 2013 and is very happy to finally be wearing her Blue tunic. Her graduation will be on the 9th July where she will recieve her Registered Veterinary Nurse Badge. Sarah wishes to Thank all the staff and clients of QPVS for their support over the last few years. (And Yes, that is a Mickey Mouse Graduation Cap she is wearing!)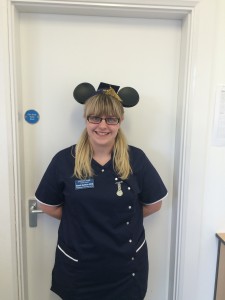 Friday 26th June:
We have a lovely new Groomer called Heather who started at the practice a few weeks ago, shes booking up fast, so get on the phone fast to book your pet in for a hair cut before the warm weather!