Unfortunately, there is no NHS for pets. We strongly recommend that all pets (cats, dogs and rabbits) are insured with a policy that covers them for their whole life (a lifetime policy). With some companies, we can direct claim for the cost of treatment or surgery. This means that if your pet needs unexpected treatment you will only have to pay your excess, and you won't be left waiting for the money. If we cannot do a direct claim, we can assist you in claiming the money back to yourself. We do not currently charge for this service (some vets do).
Why we promote Petplan
Not all pet insurance is the same, and with advancements in veterinary medicine it's essential to choose
the right insurance so you can get the right treatment for your pet without having to worry about the cost.
The policy you choose can have implications for the veterinary care of your pet so it's important to
choose the right cover. When shopping around for a policy, we suggest that you consider the following:
Does the policy cover congenital, hereditary, hip-related, dental and behavioural conditions?
Is there a time or monetary limit on how long the policy will cover ongoing conditions for?
If you claim, will your premium increase?
We work in partnership with Petplan® who offer a range of plans, outlined below.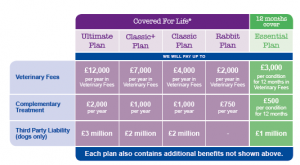 No cover is provided for pre-existing conditions .Your premium will increase over the lifetime of your policy and terms, conditions and excesses apply and may be varied on renewal. Typically a 20% excess (in addition to the fixed excess) is introduced at the pet's 10th birthday for cats and dogs and 7th birthday for rabbits and some breeds of dog on our Covered for Life® plans. On our Essential plan the 20% excess is introduced at the cat or dog's 8th birthday (5th birthday for some breeds of dog).
Why not try before you buy…
Take advantage of Petplan's 4 weeks trial. Activate 4 weeks free insurance for your pet and receive help
covering unexpected veterinary fees up to £2,000. To start your 4 weeks free policy simply pop into our
practice or to activate your own voucher, click here. There is no obligation to buy a full policy.
Terms, conditions and excesses apply and may be varied on renewal. No cover is provided for pre-existing conditions. Petplan is a trading name of Pet Plan Limited and Allianz Insurance plc.