It's not always easy to keep your pet calm, whether they are nervous by nature or there is a stressful event happening. Visiting the vets can be stressful for your pet, particularly if a procedure is involved. We try to keep this to a minimum, however it's good to know that we can help.
Calmex is a supplement which can be added to your pet's food post surgery, to help promote relaxed and calm behaviour. This may be advised by the vet or nurse if your pet is particularly excitable, or if there are sutures present and exertion needs to be minimised. You will be asked when we admit your pet whether you would like to take Calmex home later that day. For dogs, Calmex comes as a capsule, which can be given whole or sprinkled on to food. For cats, Calmex comes as a liquid which can be given orally straight in to your cats mouth, or applied to food. This can be given for the whole recovery period, giving you peace of mind whilst your pet recovers.
If you have any questions please talk to a member of staff at the surgery, or phone us on 01204 525066.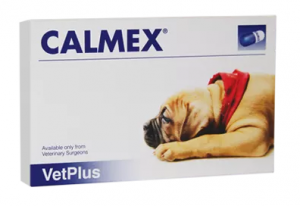 [image courtesy of VetPlus Ltd]
More information on the surgical procedures which we perform can be found here.